¿Se acerca tu viaje a Nueva York? El Empire State, la Estatua de la Libertad, el Central Park etc, son sin duda atracciones imperdibles. Pero hay ciertos lugares fuera del foco turístico que valen la pena conocer si quieres envolverte en el autentico aire neoyorkino.
Si estás en busca de una visita fuera de lo común a la Capital del Mundo, aquí te orecemos algunas alternativas poco conocidas de la Gran Manzana. Aquí 10 Planes de Turismo Alternativo en New York, algunas sugeridas por los mismos neoyorkinos.
---
1. El Grafiti Hall of Fame
Te guste o no el grafiti, no cabe duda de que es el arte urbano por excelencia. Además, Nueva York es una de las sedes más importantes del grafiti. En el famoso barrio del Harlem, en las calles Harlem 106 y Park Avenue se encuentran las mejores y más coloridas imágenes de grafiti de la ciudad.
El Grafiti Hall of Fame es el muro límite del Complejo Educativo Jackie Robinson, es un brillante espectáculo de lo que se puede lograr con latas de pintura en aerosol.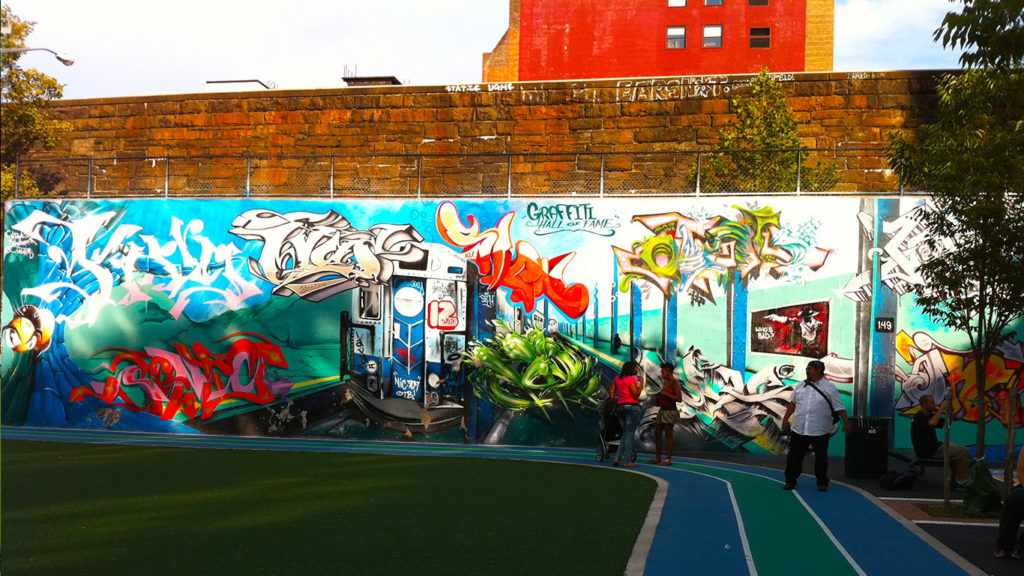 ---
2. El Museo del Sexo (Museum of Sex)
Si ya visitaste el MET (Metropolitan Museum of Art), Guggenheim y el MOMA (Museo de Arte Moderno), entonces ya es hora de salir dejar los museos conocidos y encaminarte a un museo diferente.
En la 233 5th Avenue (5ta Avenida) te encontrarás con el Museo del Sexo. Inaugurado en el 2002, el museo es una experiencia única para entender sobre sexualidad humana, animal, inflable y hasta sexo robótico.
---
3. The Alamo
No, no es el fuerte donde los tejanos combatieron contra el ejército mexicano, sino una escultura de cubo gigante. Instalada desde 1967, el Álamo fue creado por Tony Rosenthal, uno de los más importantes exponentes de arte abstracto del siglo XX. Lo puedes encontrar en el Astor Place (Lafayette y 8th Street), y si tienes la fuerza, puedes intentarlo hacerlo girar. Un selfie en esta escultura es obligatorio.
---
4. El Parque Fort Tryon
¿Te imaginas poder salir de los caminos trillados en Nueva York y encontrar un pedazo de campo inglés con una capilla enclaustrada?
Fort Tryon Park es una capilla restaurada con gruesos muros de piedra y vidrieras con jardines llenos de flora y fauna exótica y colorida.
Fort Tryon fue diseñado por el mismo hombre que colaboró con la creación del Parque Nacional Yosemite. Puedes encontrar el parque en la 190th Street. Es el lugar ideal para darte un descanso apartado del ajetreo de la ciudad.
---
5. La Casa de Allen Austen
Alice Austen fue una de las primeras fotógrafas profesionales y su antigua y hermosa casa se ha convertido en una exposición de sus obras.
La casa en Staten Island se encuentra en un hermoso parque con impresionantes vistas del puerto de Nueva York, la Estatua de la Libertad y Manhattan, así como Brooklyn y Coney Island. Ouede llegar en Ferry desde Manhattan.
---
6. Bodies, la Exposición
No exageramos cuándo decimos que salir de los caminos trillados en Nueva York te encontrar algunas sorpresas.
Si eres es muy sensible visualmente, es mejor que evites el museo de cuerpos "Bodies".
Pero si estás fascinado por el cuerpo humano, esta es tu oportunidad de observar como se ve por dentro cómo funcionan y el cuerpo humano de cerca.
La exposición está en 11 Fulton Street y contiene más de 200 cuerpos reales y pedazos de cuerpos disecados. Ideal si buscas un experiencia de shock visual.
---
7. Koreatown
Seguro has oído hablar de los icónicos barrios de Little Italy, Chinatown y el Harlem, pero no de una de las atracciones menos conocidas de Nueva York, Little Seoul. En la 32nd Street entre la 5ta Avenida y la intersección de la 6ta Avenida puedes disfrutar de todo lo coreano. Date un vuelta por las tiendas, disfruta de la atmósfera y come algo diferente y saboreando los sutiles matices de la cocina coreana y de otras comidas asiáticas. No olvides visitar el Korea Way, una réplica del clásico ambiente coreano.
---
8. El Brooklyn Flea Market
Es muy divertido salir de la ruta tradicional de shopping en Nueva York y encontrar lugares estupendos para comprar o simplemente para deambular. El mercado de pulgas de Brooklyn se levanta al aire libre en verano y se mueve puertas adentro durante el invierno, así que el lugar de ubicación depende de cuando planeas visitar Nueva York.
Tienes un sin fin de puestos por chequear – antigüedades, objetos de arte, ropa vintage, artesanías y algunos de los mejores vendedores de alimentos en la ciudad se agrupan aquí. Un espectáculo visual y una muestra clara de la cultura neoyorkina.
---
9. El High Line
No todos los parques de Nueva York son espacios verdes. El High Line Park está ubicado en una sección elevada de la línea de ferrocarril de carga en el West Side de Manhattan. El parque lineal mide de 1,45 millas de largo (2,33 km) y es un excelente lugar para observar la ciudad, hacer un picnic o simplemente relajarse. El parque está abierto todos los días entre las 7am y las 10pm, y cuanta con varios puntos de acceso.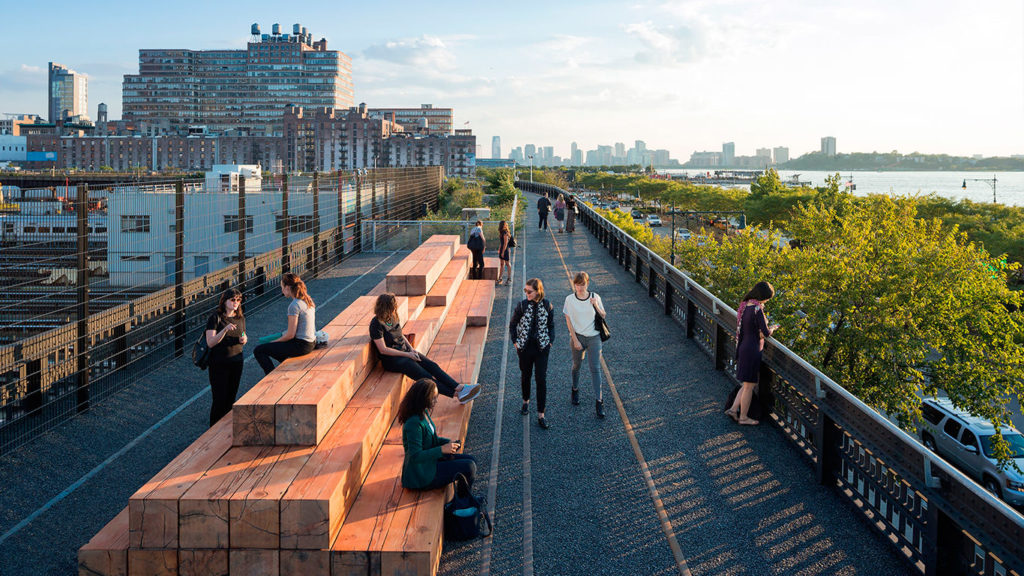 ---
10. Antigua Estación City Hall
El primer metro de Nueva York fue construido y operado por la Interborough Rapid Transit Company (IRT) y abrió sus puertas el 27 de octubre de 1904. La estación de City Hall en la pista local de IRT fue construida con detalles arquitectónicos finos: baldosas de vidrio y grandes candelabros. El interior de la estación ha sido muy bien conservado y se puede visitar en una visita guiada. Un adentramiento a la historia del trasporte público de Nueva York.
---